JUNE FOCUS:

ADVOCACY & COMMUNITY INVOLVEMENT

|

  

I

SSUE 1 OF 4  

|

6.7.21
Good morning and happy Monday!

June is Pride Month, which began more than 50 years ago as a way for the LGBTQ community to celebrate love, visibility and acceptance. In this edition, we're centering LGBTQ voices and experiences.
Here's what you'll find in this week's newsletter:
Have a great week!  

–
Emily Blobaum, Fearless editor
BY COURTNEY REYES,
ONE IOWA EXECUTIVE DIRECTOR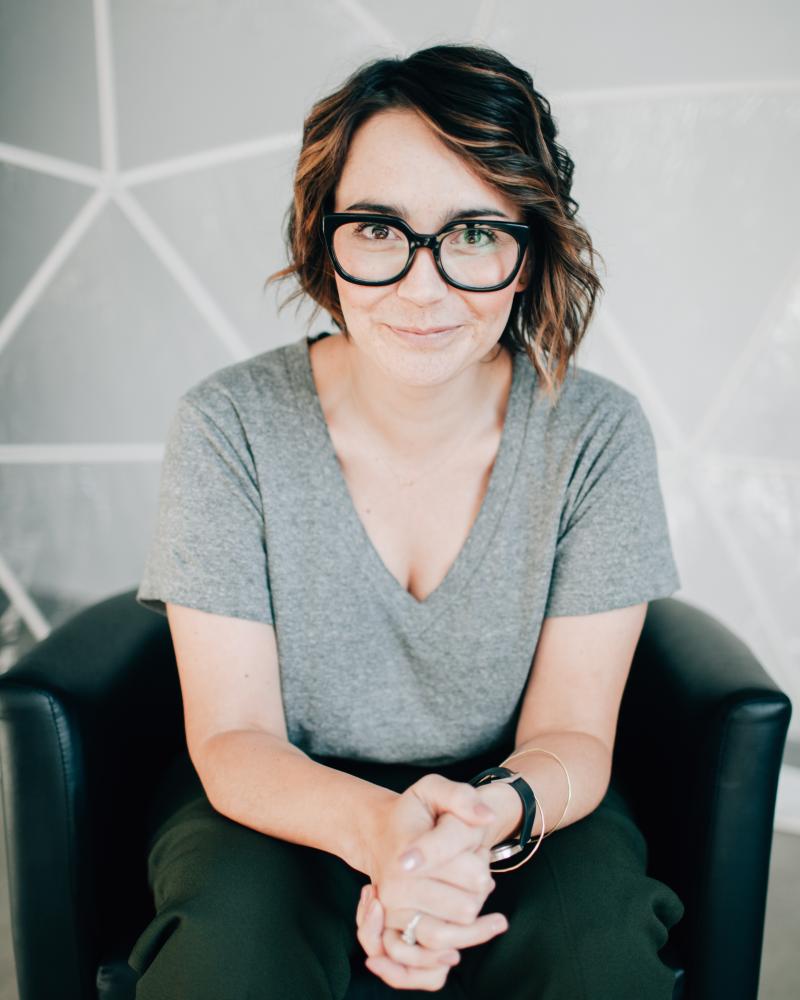 June always rushes in with rainbows and LGBTQ folks on panels. The One Iowa team is full force in training more people than ever. This influx in June is welcome, but we know that we must continue the conversation of LGBTQ liberation all year long.

We also know that we cannot do this work by ourselves. I believe that we have the numbers for good – that Iowans, like you reading this, want LGBTQ community members to feel safe and affirmed every day. Due to our current statewide political climate, we need allies to speak up. This is where you come in!

What can I do to help the LGBTQ community right now? Here a few of my go-to ways to use your power and privilege for good:

Educate yourself and your company about the LGBTQ community. (

One Iowa can help

!)

Don't assume someone's sexual orientation or gender identity. Listen to how they talk about themselves and their family -- mirror that language.

When a marginalized person speaks up about injustice in a meeting/online, don't stay silent. Let the room know you support this person.

DO assume that there are LGBTQ people in your workplace and life. They just may not be out to you.

Shut down homophobic and transphobic talk/jokes immediately.

Degender your language. Here are a few to get you started: Instead of saying "husband/wife," say "spouse/partner";

instead of saying "son/daughter," say "child"; instead of "ladies/gentlemen," say "distinguished guests"; and replace "hey, guys" with "hey, friends."
These are just a few easy actions to get you moving. It is so important to keep learning and to be OK with changing your mind with new information. Remember that advocating from a place of intersectionality is crucial. We stand on the shoulders of the Black and Brown transgender folks who started the gay revolution over 50 years ago at the Stonewall Riots. We must continue their work.

No pride for some without liberation for all.

Courtney Reyes is a stay-at-home mom turned executive director who leads the advocacy group One Iowa. One Iowa advances, empowers and improves the lives of LGBTQ Iowans statewide.

Learn more about the 15 anti-LGBTQ bills from the Iowa Legislature that One Iowa, One Iowa Action and a coalition of people stopped in 2021
.
Announcing dsm Magazine's 2021 LGBTQ Legacy Leaders
The Business Record's sister publication, dsm Magazine, is pleased to announce the 2021 honorees for its annual LGBTQ Legacy Leader Awards, spotlighting leaders and role models across the state for their work in advancing equality of LGBTQ+ individuals and for their other civic contributions.
The honorees include five people from the LGBTQ community as well as one ally:
Tim Hickman,

Des Moines, principal at Substance Architecture.

Eugenia Kutsch-Stanton,

Des Moines, research scientist at Corteva Agriscience.

Randy Mayer,

Ames, chief of the Bureau of HIV, STD and Hepatitis at the Iowa Department of Public Health.

John Schmacker,

Des Moines, retired certified public accountant and nonprofit executive.

Elle Wyant,

Iowa City/Cedar Rapids, account executive at United Parcel Service.

Dr. Kyle Christiason

(ally),

Cedar Falls, physician at UnityPoint Health.
dsm will recognize these individuals during a virtual event in October. Watch
its website
and
social media
for dates and registration information.
Six Iowa LGBTQ+ leaders on the importance of intersectional leadership
BY EMILY BLOBAUM,
FEARLESS EDITOR
Screen grabs from Zoom calls with
LGBTQ
+
leaders
. Clockwise, from top left: Erika Hendel, Jen Carruthers, Buffy Jamison, Becky Ritland, Diana Prince, Courtney Reyes.
All of the major LGBTQ+ advocacy organizations and nonprofits in the Des Moines metro area are being led by women or nonbinary people, many of them having programming with a statewide reach. In two separate group interviews earlier this year, I met with six LGBTQ+ leaders and talked about why this is significant, the importance of intersectionality and visibility in leadership positions, and how they lead their organizations.
Left

: Tennis great Naomi Osaka.

Center

:

CVS Health CEO Karen Lynch.

Right

:

Capital Crossroads director Britney Samuelson

.
KNOW YOUR WORTH: FEARLESS STORIES AT WORK, BY
'Protecting Hands, Wise Counselor': Romonda D. Belcher


Romonda D. Belcher doesn't know how she stumbled across her dream to become a judge — only that the calling came early. The path to becoming an attorney, much less a judge, is long, but Belcher never lost sight of the judiciary as her end goal. Belcher attributes her persistence to her faith.

"Being a judge is what I do, not who I am," she says. "Who I am on the inside — my values, how I treat people, my character, my compassion — makes me the judge I am. I don't just put on a robe and put on certain qualities. Who I am is who I am."

R

EAD THE FULL STORY>
"
IN OUR WORK AND IN OUR LIVING, WE MUST RECOGNIZE THAT

DIFFERENCE IS A REASON FOR CELEBRATION AND GROWTH

, RATHER THAN A REASON FOR DESTRUCTION.
"
AUDRE LORDE
Looking for other ways to celebrate Pride Month? Check out the following: